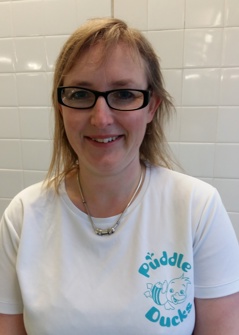 Nicola Riley has worked with our Doncaster and South Humberside franchise for the past eight months as a poolside assistant. Having previously worked at a private day nursey, Nicola was attracted to Puddle Ducks because of her love of working with children and the obvious benefits she saw in teaching babies and pre-school children to swim – it's a life saving skill!
She has taken her first steps to becoming a Puddle Ducks teacher and is set to jump in the pool soon to begin her training. Our teachers are put through bespoke training programmes (carefully developed by our baby and child swimming experts) as well as gaining the necessary STA (Swimming Teachers' Association) qualifications. This ensures that they deliver the highest quality lessons to our little Puddle Ducks.  Nicola has kindly agreed to share her training journey with us and we wish her the best of luck!
My journey so far......
"I was very nervous and excited about saying I would train to be a teacher!  Firstly nervous, as the training means that I'll be away from my children for a few nights. As all parents know, it's a wrench and I'll miss my cuddles, especially my one year old as it's the first time I'll be leaving her for more than one night!!!
However I am so excited about the opportunities that are opening up to me. I really enjoy meeting new parents and seeing the bond that they have with their child in the pool. I am grabbing the opportunity to set myself a new challenge and make a difference – having worked with children for the past seventeen years I have a really good understanding of their development and love the way that Puddle Ducks tailors activities to suit each child and let them progress at their own rate. I also love that we are making learning fun! Children don't even realise that they are learning to swim! My most memorable moment as a Poolside Assistant so far has been seeing a particular child put their face in the water for the first time after weeks of being crying and scared. The realisation on their face that it was nothing to be scared of and their progress since showed me how important this job is.
My first step was to enrol on all three of the courses I need to do and book my first hotel room. I now need to look at doing the safeguarding online course, which I feel confident about doing as have done previous safeguarding courses. 
I look forward to giving you another update once I receive the course manual, which I know is when reality will really set in. I'm diving in rather than jumping in the pool but I'm really looking forward to it and can't wait to be teaching!
Nicola x
Teaching with Puddle Ducks

Baby swimming teachers come from all walks of life and are bound together with a complete love of their job and shared experiences. It's a fabulous job that still gives you plenty of valuable time to spend with your family.

Find out more about doing the best job in the world!

Learn more