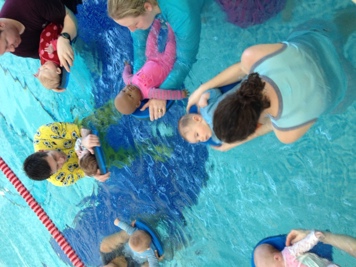 Nicola Riley, a Poolside Assistant who works with Puddle Ducks Doncaster, has just begun her training to become a Puddle Ducks swimming teacher. A couple of weeks ago we featured the first of a series of blog posts in which Nicola shares her journey as she goes through our training programme. Here's the next instalment....
Well it's been a mad couple of weeks since my last blog post. Firstly I did my online safeguarding course, which I passed. I was quietly confident in this, as I have previously studied this course through my childcare jobs, so hugely relieved when this was completed.
Then it was my STA (Swimming Teachers Association) level 2 Pool Responder course.  I felt very nervous about this. Although I have previously attended first aid courses, which involved practicing mouth to mouth on a dummy or putting someone into the recovery position, I have never done life saving techniques in the pool and this is obviously a huge requirement for my new role.  I got straight into it though and soon gathered my confidence. I successfully passed this too! So a good week overall!
We have been running our termly pyjama classes this week, so it has been great to see the babies and children swimming in their pyjamas. Although lots of fun, there is a serious message for all mums and dads including me – if children accidentally fall in to water, they may be fully clothed. Our pyjama classes teach them what it feels like to be in water whilst wearing clothes and even though they feel heavier, they learn that they can still kick to the surface, turn and reach for the side. This knowledge could save their life.
At the time of writing this blog I am preparing to attend my first day of the STA Baby and Pre-School qualification. I am so nervous it's unbelievable; I have done three lesson plans, which was hard as I have never done anything like that before. I have also been studying the training manual. My head feels like it's going to explode with information, but I love this opportunity and the opportunity to make a difference, teaching children life-long skills. I'm looking forward to putting the things that I'm learning in to practice.
I'll be back soon with an update to let you know how the first day of my training went!
Nicola x 
Nicola Riley is training to become a Puddle Ducks Teacher with our Doncaster and South Humberside franchise.