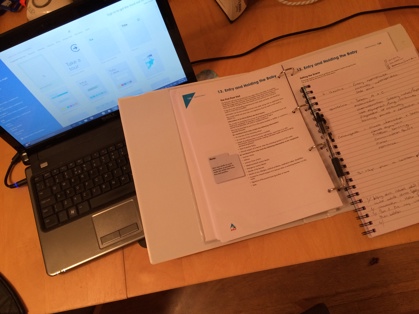 Last week, as part of my ongoing training, I arrived in York for my STA baby and pre-school course. The STA (Swimming Teachers' Association) is the world's largest independent swimming teaching and lifesaving organisation and have the objective of "preserving human life by the teaching of swimming, lifesaving and survival techniques". This shows just how important my role is going to be – keeping children safe and it really could save a life.
I was feeling really nervous, but I met two of the course tutors on arrival who were very welcoming and introduced me to the other two people on the course, I was pleased it was a small group! We had an hour in the classroom where we were introduced to the techniques used to teach babies and pre-schoolers to swim. I learned the theory behind it, before going in to the pool for practical sessions and it was absolutely brilliant to be so hands on, especially after observing Puddle Ducks classes from poolside!
After our time in the pool, we did some written lesson plans, which was hard but really enjoyable too. Lesson plans are the foundation of what we teach and they ensure we include all of the important swimming elements in our classes (e.g. breath control, kicking, jumping, personal survival) as well as the fun elements like songs and games. The rest of the day was really interesting and I really relaxed into it and took lots on board.
I am really looking forward to the second and third days of training over the next couple of weekends. Completing the STA course prepares me a little for what I can expect as my training progresses and it is a pre-requisite for attending the bespoke Puddle Ducks course, which I will move on to. Whilst the STA provides the foundations of teaching baby swimming, the Puddle Ducks Baby and Pre-School course builds on this and is a specialised course designed by in-house swimming experts to enable to you teach Puddle Ducks' unique classes.  It will also help prepare me for the practical side of teaching. I am looking forward to learning about all of the activities and songs and about the progressions we have in our classes – how one programme leads to the next so babies/toddlers/pre-schoolers continue to progress as they swim with Puddle Ducks.
I was delighted to find out that one of the lovely ladies I met in York will be a Puddle Ducks colleague and will be going through the Puddle Ducks training with me in March. It's great to meet some one else that is going to be doing the same job as me in another part of the country.
Anyhow, I will keep you posted on my progress! It's back to mummy duties for the rest of the evening, before I continue on my adventure next weekend! 
Nicola x
Nicola Riley is training to become a Puddle Ducks Teacher with our Doncaster and South Humberside franchise.