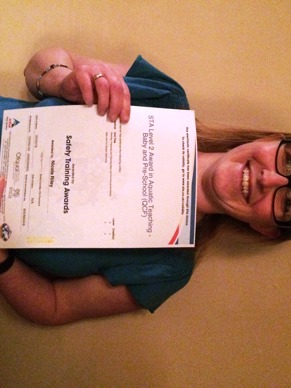 Hi everyone, I'm so pleased to let you know that I have passed my STA (Swimming Teachers' Association) course!
Last week I attended my last day of the STA training and my mind was swamped with relaxes, submersion and lesson plans…so much to take in! I carried out a 15-minute lesson with children aged 1-3 years old, completed a portfolio and then I had to sit an examination - a multiple choice paper of 30 questions. I was very nervous and questioning myself, did I know all the information? Had I filled everything in correctly? But yay!... I passed! I was so pleased that I was literally dancing afterwards and treated myself to a new swimming costume to celebrate!!
This week I have been preparing for the next stage in my training and reading the Puddle Ducks lesson plans, learning the songs and different ways of holding a baby/child in the water. At the time of writing this I am travelling to Wirral, where I will be attending the Puddle Ducks Baby and Pre School training course.  I am very nervous about leaving my two beautiful children and I am going to miss them loads, but I know it's to train for an amazing and rewarding job, where I will be able to have a good work-life balance.
I will update you all soon…thank you all for supporting me. I love speaking to the parents about my progress and can't wait to get into the pool to teach my own classes.
Nicola x
Nicola Riley is training to become a Puddle Ducks Teacher with our Doncaster and South Humberside franchise.