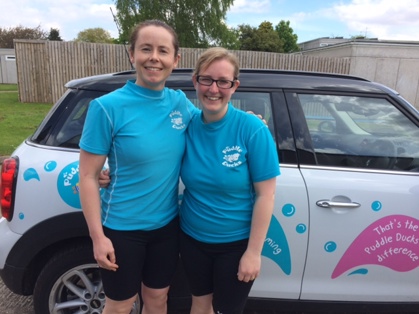 Back in February, Nikki Riley took her first steps to becoming a Puddle Ducks Teacher with our Doncaster and South Humberside franchise. In earlier blog posts, she shared with us her thoughts prior to starting her training and we are really delighted that she is now a fully qualified teacher and is in the pool teaching classes at John Whitgift Academy in Grimsby.
More from Nikki…
Well, I can't believe how much my life has changed (for the better) in just a short period of time! Over the past month, I have attended a five-day Puddle Ducks training course which was amazing, so much information to take in, with a great bunch of girls and a fabulous teacher who were all really supportive.  There were a few long days, but I enjoyed every moment of it.
After attending the course, I began co-teaching with Nicola (my franchisee) and putting everything I learnt into practice. I surprised myself with how easy it was for me to naturally take over the whole lesson within weeks of training.  Nicola supported me and gave me great guidance and I really enjoyed using all of the techniques and skills I learned in a real class.
With lots of practice under my belt, the last hurdle was my assessment.  I couldn't stop worrying 'what if I failed'?  I wanted this so much that I was an emotional wreck all morning!
I was so excited at the end, after finding out I had passed… yay! I actually had a little cry (tears of joy obviously!)
The next day has to be one of best days of my life – a new job, getting into the pool on my own and teaching my very first class on my own. It was great and I know I have found a job that I am really going to love. Thank you to all the parents for your support and letting me handle your beautiful children to practice. I can't wait to take you all forward with me on my journey as your new Puddle Ducks Teacher. I am so happy to have shared my experience with you and would recommend to anyone who thinks they could do this job – go ahead, it's awesome! I'll be teaching classes on Tuesday afternoons and Sunday mornings at John Whitgift Academy – come and join me! 
Nikkix