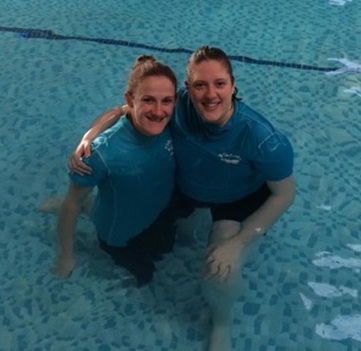 Two of our many fabulous teachers Nicola Wragge and Vanessa Watts have been jointly selected as 'Teachers of the Term Spring 2016', due to their support to deaf children in their classes and commitment to learning sign language.
We asked our customers to submit quotes of up to 150 words, describing why their teacher should be selected as "Teacher of the Term". Independent judge Frances Donkin of Rhythm Time Cheshire judged the competition and selected the winning quote:
"When it is swimming lesson night a parent couldn't wish for more than to hear her child cheer in excitement, run down the path to the pool, relish every part of the lesson and then skip back confidently to the car. Nic and Ness make this the reality for my daughter every week. They don't just teach a class of children to swim, they teach each individual in that class to swim. That means having a special connection with each child and understanding them as a whole little person with all their unique physical and emotional needs. This in itself warrants recognition but Nic and Ness have gone even further in their commitment to support my deaf daughter. As well as using sign language they intuitively think of ways in which they can help my little girl understand the lesson. They are a fantastic team and deserve joint nomination."
Mum Nichola, who lives in Warrington and whose daughter swims at Delamere made the nomination, in what happened to be Sign Language Week, something Puddle Ducks are very passionate about. Both Vanessa and Nicola (known as Ness and Nici) have worked hard to learn sign language in order to support deaf children in their classes and Nici also completed her deaf awareness training and is now accredited to teach deaf children. Many more of our teachers are also developing their skills and Puddle Ducks are working with the National Deaf Children's Society (NDCS) to ensure their lessons are deaf-friendly.
The competition is designed to raise awareness of the standard of Puddle Ducks teachers. To succeed our teachers have to stand out. In addition to becoming STA qualified, we are one of the only swim schools to provide our own comprehensive, teacher training package, enabling us to deliver a service that is unbeatable in the market. Our mission statement is as follows: 
"We want every child to love swimming, respect the water and swim beautifully. That's why our standards are the highest and our approach is unique."
We continue to live up to this statement and always go the extra distance to support our swimmers.
Puddle Ducks teach their Baby & Pre-School classes, as well as their Swim Academy classes at a number of locations across Cheshire including Alsager, Delamere, Weaverham, Sandbach, Macclesfield, Runcorn, Warrington, Sale and Crewe. We are also currently offering FREE Aquanatal lessons at Warrington and Runcorn.
Rhythm Time Cheshire, kindly judged the competition. They offer fun, award-winning quality music sessions to enhance the development of babies, toddlers and pre-schoolers. We fully recommend them!