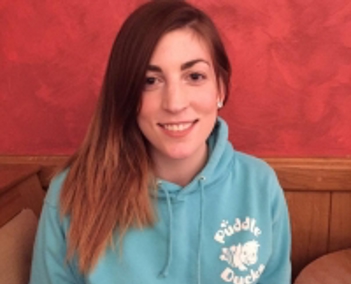 Rosie Waudby from Puddle Ducks Tees Valley was nominated by Kirsty & Mark Reed and this is what they had to say:
"We were worried how Heath would take to swimming, as he has never been fully submerged in water. All our worries were put aside having Rosie as Heath's teacher, with her kindness and patience. She is so warm, friendly, kind and funny. She has gone out of her way to work around Heath's back. As he has Achondroplasia, a common type of Dwarfism, which causes his spine to slightly curve. His back has improved a lot since he started swimming along with daily activities. He looks forward to his lessons with Rosie every week. She takes the time to listen if we have any queries or concerns. She always has her smile on her face from the start of class right up until the end. Nothing is too much trouble for her. She is an amazing lady and we love her as a teacher and a friend".
The nomination was chosen by Hywel Lewis, Partnerships Manager for Butlin's. This is what Hywel had to say:
"The parents were clearly very nervous from the outset so the teacher must have worked very closely with them to assuage any concerns and help them grow their own confidence as well as their child's.  Having worked with Puddle Ducks and understanding their approach and way of working, I cannot imagine that this teacher would have instructed any activities to this family if they thought there was the slightest risk. That will have meant research and taking the time to understand the needs of this individual child to provide a tailored solution which, the parent states has improved the child's back since he began the sessions"
Hywel Lewis has been working closely with the Duck HQ team as 2016 sees Puddle Ducks embarking on a partnership with Butlin's, initially to deliver the swimming activities on their Teeny Tots focussed Just for Tots breaks later this year.