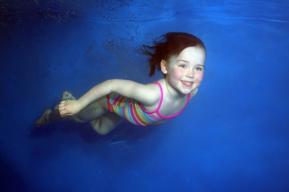 There is a growing demand for underwater photographs, the shoots can be lots of fun and the results can look stunning but parents should consider whether their child is ready for such an event. There's nothing worse than looking at a beautiful photograph knowing that your child is now terrified of water because of it. When you are booking an underwater shoot, here is our advice to consider:
Who can attend
Our Floaties (0 – 6 months) and Splashers (6 – 15 months) are the perfect ages to attend a photoshoot to try and maximise the chances of getting a good shot. Children between the age of 15 months and 2.5 years are generally gaining lots of confidence but they like to do things on their own terms and many will only go underwater when they want to and not when their parent or teacher says! That's not a good recipe for an underwater photoshoot. At Puddle Ducks we consider our Little Dippers (2.5 – 4 years) our confidence building class and many prefer to be above the water, finding the underwater environment quite scary. The last thing we want to do is force them to go under when they don't want to. Older siblings can also join in for gorgeous shots of brothers and/or sisters swimming together.
On the day, look out for the signs that your child doesn't want to be submerged and prepare yourself for disappointment if today is just the wrong day for them. We do this by using signals and watching for reactions. Any negative reaction e.g. shaking of the head, tensing up, look of concern on their faces or even saying "no" if old enough is the cue for us to not submerge. If at your swimming lessons your child usually resists submersion, then it is likely to happen at the photoshoot. Your Puddle Ducks teacher will advise you on the best time to attend a shoot.
Care taken over which pools we use
We only use pools where the water depth and clarity are ideal, as they are key components in the success of an underwater shoot.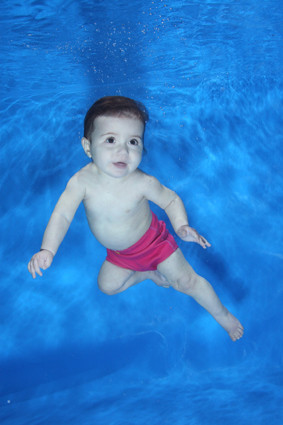 Strict rules on who can submerge your child(ren)
In our shoots, the submerging teacher is always a Puddle Ducks teacher and they have additional training to allow them to submerge children at photoshoots. We don't allow just anyone to do this! There's a lot of thought that goes into our shoots and the training of teachers and photographers to ensure that the submersions are age appropriate, depth appropriate and ultimately safe. The photographer and teacher also work together to ensure that the child is ready and will jointly make a decision as to whether the child should or should not be submerged. We also have another Puddle Ducks teacher running a play session alongside the shoot so that the other children are not waiting around and getting bored.
Strict rules on who can take the photos
At Puddle Ducks, we only use the most experienced photographers during our shoots. If you decide to go and find your own commercial photographer, please do think before you book and be careful if you are looking for external photographers. You need to have been swimming with us for at least six lessons before you can attend one of our underwater shoots. It is really important to us that your child is happy underwater and that they understand our signals for submersions. Spending six lessons with them allows us to know them better and we can make an informed decision as to whether they will be happy at the photoshoot.
There are many underwater photography companies operating in pools around the UK who will submerge your baby for you without even having taught you! They don't know your child, they don't know what signal (if any) they are used to, they don't know if they are confident or nervous or whether they've even been submerged before! Whilst we are sure these companies have qualified teachers and photographers, it is concerning that babies and children may be submerged when they are not ready.
If all the right things are in place; pool, teacher, photographer and of course a willing participant (!), then the results of an underwater shoot can be some of the most beautiful, ethereal images you will ever have of your child.
Our underwater photoshoots are the highlight of the swimming year for many parents! The shoots we offer provide a wonderful opportunity to capture the bubbles, smiles and splashes forever.

Find out more about our underwater photoshoots.

Learn more