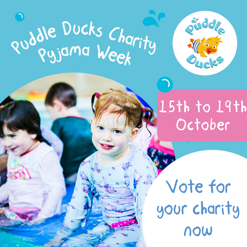 Our annual charity Pyjama Week will run from 15 – 19 October, and we are counting the votes in preparation for announcing which charity, nominated by our customers, will benefit from the money raised. Although voting has now closed, you can find out about the nominees here:
Macmillan Cancer Support
A charity for everyone affected by cancer, their family and friends, providing practical, medical and financial support and pushing for better cancer care.
Macmillan was nominated in memory of the Mummy of one of our swimmers who tragically passed away over the summer.
-----------
Pitt-Hopkin UK
A new charity raising funds to support people diagnosed with Pitt-Hopkin syndrome, a genetic condition with symptoms such as development delay, learning disabilities, low muscle tone, short sightedness and scolosis.
Pitt-Hopkin was nominated by one of our Dads, whose close family friend was diagnosed with this very rare syndrome when he was 10 years old and is now 20.
-----------
Every Child Needs Christmas
A very local campaign, run by local volunteer Mums and Dads in Worle, now in its sixth year. Last year it delivered 10,000 Christmas presents to less fortunate children within the BS postcode area, who would otherwise receive nothing at this special time of year. Children are those most in need, nominated by social services.  
https://www.facebook.com/childsxmas/
-----------
SANDS (Stillbirth and Neonatal Death Society)
For 40 years, SANDS has supported everyone affected by the death of a baby. They work to improve the care bereaved parents and families receive, to influence policymakers and to promote research to reduce the loss of babies' lives.
-----------
Winston's Wish
Winston's Wish is a child bereavement charity. They support bereaved children, their families, and the professionals who support them. Set up in 1992, they were the UK's first childhood bereavement charity, and continue to lead the way in providing specialist child bereavement support services across the UK, including in-depth therapeutic help in individual, group and residential settings.
https://www.winstonswish.org/about-us/
A Sibling's Wish: The Harvey Hext Trust
A charity supplying bespoke personalised wooden memory boxes to children who have lost a sibling; children who often receive very little bereavement support.  The boxes are a very simples, but effective, way of helping a sibling to remember their brother or sister and preserve their memory.  The memory boxes are displayed at many children's hospices throughout the UK, and bereavement teams at local hospitals have a memory box to offer families at an appropriate time.
http://www.asiblingswish.com/