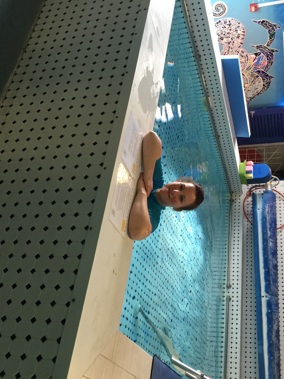 All you need to know – Larkrise School
Ashton Street, Trowbridge, Wiltshire BA14 7EB
We can't wait to welcome you to Puddle Ducks at Larkrise School in Trowbridge – in the meantime, here's some information that we hope you find useful. Have a splashtastic time!
Location: Larkrise School
Parking: There is ample parking outside the front of the school after 3.30pm when the school children and buses have left for the day.  Please only park in the visitor parking spaces and not in the school bus bays as you may get blocked in when the buses return. Thank you very much.
Essential information:
Please enter the main entrance and ensure you sign in each week.  There is a register on a clipboard fixed to the left hand wall.
You will be given an access code for the main doors when you register with us at Puddle Ducks.
Michelle, our Poolside Assistant, will be at the pool every week to show you how to access the pool.
There is limited space for pushchairs and car seats so please only bring them into the school if you are walking to the venue.  Thank you.
There are no nappy bins at this venue so please take your nappy home with you.
No food is permitted on the poolside or in the changing rooms, please save your child's snack until after you have left the pool.
Attire
Changing rooms: There are two changing rooms (one for men and another for women) with showers.  It can be chilly in the changing areas after your swimming lesson so we recommend you bring your child's towel poolside so you can wrap them up after class. 
Exclusivity: Puddle Ducks has exclusive use of the pool.
Access: You will be given an access code for the main doors when you register with Puddle Ducks, and an exit code as well. 
Technical information:
Pool temperature: 34°C.
Poolside assistant: There is a Puddle Ducks Poolside Assistant at this venue.
Depth:  1m
Maximum class ratios: 6 children/adult pairs : 1 teacher (Baby and Preschool classes)
If you need to contact us, here's your local Puddle Ducks office details:
Call us on 0117 9717165
Email us on bristolandbath@puddleducks.com