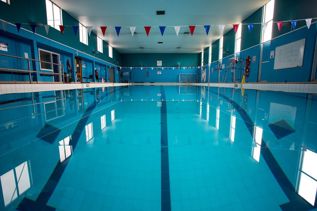 IMPORTANT: Please read this SWIMMING AT WINTERBOURNE ACADEMY document BEFORE attending your first lesson post-lockdown. It details all the procedures in place for staying safe during COVID-19.​
Our flagship North Bristol pool, where we offer classes for children aged from six months all the way up to 10 years old every Sunday.
Ample free onsite parking
Baby and pre-school lessons run at the same time as Swim Academy classes – perfect if you want siblings to swim at the same time!
For class times, booking and a location map, click here.
DETAILED INFORMATION
Address: Sports Village, Flaxpits Lane, Winterbourne, BS36 1LA
Venue: Winterbourne International Academy
Parking: The swimming pool is in the Academy Sports Village where there is a large free car park, and adjacent overflow car park. If parking in the overflow, there is a direct walkway into the Sports Village.
Essential information:
There are no nappy bins at this venue so please take your nappy home with you.
No food is permitted on the poolside or in the changing rooms, please save your child's snack until after you have left the pool.
Attire
Exclusivity: Puddle Ducks has exclusive use of the swimming pool.
Access: 
The swimming pool is located in the Academy Sports Village, accessible from Flaxpits Lane. Once you've parked your car, walk towards the Sports Village. The swimming pool is situated in its own building to the left of the main sports centre. 
If the car park is full, you'll find an overflow car park further up Flaxpits Lane on the left hand side.  The car park can get very full if there is a weekend sporting event at the school.    
Please note that the swimming pool can't be accessed from the main school entrance.  If you find yourself at the Main Entrance, exit the school, turn left and then take the first left onto Flaxpits Lane.  Drive past the rank of shops and you'll see the entrance to the Sports Village on the left hand side.  
Technical information:
Pool temperature: 30°C.
Poolside assistant: There isn a Puddle Ducks Poolside Assistant at this venue.
Depth: 0.9m to 2.99m
Helping you to make your special time last even longer…that's the Puddle Ducks' difference
Closest café
Old Down Country Park is three miles away where you'll find their Barn Café.  Here you can relax in the daytime with cup of fair trade coffee or a pot of tea and homemade cake next to the log burners or on the sofas.