We hope you enjoyed the Lion King show at Bristol Hippodrome!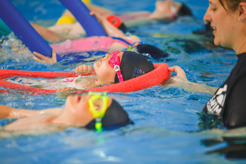 Thank you for your interest in our Swim Academy lessons.  We run classes after school and at weekends to fit in with school life. You can find out about each of our gorgeous venues, and when we swim, here.
We group by ability, not age. Levels 1 and 2 are our beginner levels, where teachers are still in the water with your child as they gain confidence and learn to swim independently.
Levels 3 and 4, for more confident swimmers, are the first classes where the teacher is poolside. Levels 5 and 6, our 'elite' classes, allow children to really hone their technique and skills.
Not sure which class is right for your child? Just call our friendly office team for advice on 0117 971 7165, or complete an enquiry form here.
DON'T FORGET YOUR SPECIAL LION KING 10% DISCOUNT - USE CODE BBLK10 by 3rd January 2020.