Welcome to Puddle Ducks Bristol and Bath - swimming classes for babies, pre-schoolers and children up to age 10!
Come and swim with us at Ashwicke Hall School in Marshfield, just outside Bath.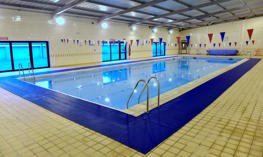 Friday mornings -  gentle baby and pre-school classes classes for ages six months to 4 years. 
Wednesdays after school - expert swimming lessons for primary school-aged children. 
Click HERE for details.
We swim at 15 other pools across the region too - find out more below:
Baby and Pre-School swimming classes from birth to 4 years. Click here to enquire.  
Swim Academy swimming lessons for children aged 4 - 10 years. Click here to enquire
Browse all our pools and classes here
Want to discuss your options? Contact our friendly office team -  Caroline, Vicki, Amanda and Sarah J - for an informal chat to find out more:
Tel: 0117 9717165 (office open Monday to Friday 9.30am-4pm) Email: bristolandbath@puddleducks.com