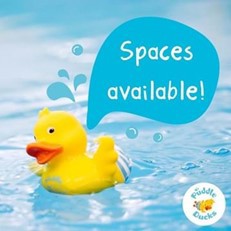 If you're looking to book your little one into swimming lessons with Puddle Ducks Chester, Wirral and North Wales then here is the everything you need to secure your place.
Below is a list of classes that have space and are not fully booked so all you need to do is click on the class time that you would like and this will take you to the website where you can then complete your booking.
If you need more information or some extra guidance on booking with us, just call us on 01829 740825 or pop us an email at chester@puddleducks.com and one of our friendly Customer Care Team will be able to assist you.
Baby and Pre School Programme
Floaties Level
Newborns up to nine months old (Child accompanied with parent/guardian in water)
Monday 12:00pm Holiday Inn Ellesmere Port
Monday 11:30am Kingsmead School Hoylake
Monday 10:30am Mercure Abbots Well Hotel Chester
Tuesday 12:00pm Mercure Abbots Well Hotel Chester
Wednesday 12:30pm Holiday Inn Ellesmere Port
Wednesday 12:00pm Holywell Leisure Centre
Wednesday 12:30pm Mercure Abbots Well Hotel Chester
Thursday 3:30pm Foxfield School, Woodchurch
Thursday 12:30pm  Mercure Abbots Well Hotel, Chester
Saturday 11:00am The Queens School (Lower), Chester 
Sunday 4:00pm Mercure Abbots Well Hotel Chester
Splashers Level:
Six -fifteen months old (Child accompanied with parent/guardian in water)
Monday 11:30am Holywell Leisure Centre
Monday 10:00am Kingsmead School, Hoylake
Monday 12:00pm Mercure Abbots Well Hotel Chester
Tuesday 12:30pm Holiday Inn Ellesmere Port
Tuesday 12:30pm Mercure Abbots Well Hotel Chester
Tuesday 16:45 Stanley School Heswall
Wednesday 11:30am Hollywell Leisure Centre
Wednesday 12:00pm Holiday Inn Ellesmere Port
Wednesday 12:00pm Mercure Abbots Well Hotel Chester
Thursday 12:00pm Mercure Abbots Well Hotel Chester
Thursday, 4:00pm Foxfield School, Woodchurch, Wirral  
Friday 11:00am Holiday Inn Ellesmere Port
Friday 11:00am Mercure Abbots Well Hotel Chester 
 Friday, 4:30pm Foxfield School, Woodchurch, Wirral
Saturday, 11:00am Holiday Inn, Ellesmere Port
Saturday 12:30pm Stanley School, Heswall
Saturday 11:30am The Queens School (Lower), Chester
 Saturday 9:30am Mercure Abbots Well Hotel Chester
Sunday 9:30am The Queens School (Lower), Chester
Sunday, 12:45pm Foxfield School, Woodchurch, Wirral
Sunday 1:45pm Foxfield School Woodchurch, Wirral
Sunday 2:30pm Mercure Abbots Well Hotel Chester 
Kickers Level:
Sixteen months old (1 yr and 4 months) – 2 ½  years old (Child accompanied with guardian in water)
Monday 1:00pm Holywell Leisure Centre
Monday 10:30am Kingsmead School Hoylake
Monday 11:30am Holiday Inn Ellesmere Port
Tuesday 11:00am Mercure Abbots Well Hotel Chester
Tuesday 11:00am Holiday Inn Ellesmere Port
Tuesday 11:30am Mercure Abbots Well Hotel Chester
Tuesday 15:45pm Stanley School Heswall
Wednesday 11:00am Holywell Leisure Centre
Wednesday 11:30am Mercure Abbots Well Hotel Chester
Wednesday  11:30am Holiday Inn Ellesmere Port
Thursday 10:30am Mercure Abbots Well Hotel Chester
Thursday 11:00am Mercure Abbots Well Hotel Chester
Friday 11.30am Holiday Inn Ellesmere Port
Friday 12:00pm Holiday Inn Ellesmere Port
Friday 12:00pm Mercure Abbots Well Hotel Chester
Friday 3:30pm Foxfield School Woodchurch
Saturday 8:30am Stanley School Heswall 
Saturday 10:30am Holiday Inn Ellesmere Port
Saturday 12:00pm Stanley School Heswall
Sunday 12:30pm Mercure Abbots Well Hotel Chester
Sunday 2:30pm The Queens School (Lower) Chester
Little Dippers Level:
2 ½  years old – 4 years old (Child accompanied with guardian in water)
Monday 10:30am Holiday Inn Ellesmere Port
Monday 11:00am Kingsmead School Hoylake
Monday 10:00am Mercure Abbots Well Hotel Chester
Monday 12:30pm Mercure Abbots Well Hotel Chester
Tuesday 10:30am Mercure Abbots Well Hotel Chester
Tuesday 11:30am Holiday Inn Ellesmere Port
Tuesday 12:00pm Holiday Inn Ellesmere Port
Tuesday 16:15pm Stanley School Heswall
Wednesday 12:30pm Holywell Leisure Centre
Wednesday 11:00am Holiday Inn Ellesmere Port
Wednesday 11:00am Mercure Abbots Well Hotel Chester 
Thursday 11:30am Mercure Abbots Well Hotel, Chester
Friday 12:30pm Holiday Inn Ellesmere Port
Friday 11:30am Mercure Abbots Well Hotel Chester
Friday 5:00pm Foxfield School, Woodchurch, Wirral
Saturday 8:00am Mercure Abbots Well Hotel Chester
Saturday 8:30am Mercure Abbots Well Hotel Chester
Saturday 11:30am Stanley School, Heswall
Saturday 1:00pm  Stanley School, Heswall
Saturday 12:00pm Holiday Inn Ellesmere Port
Saturday 12:30pm Holiday Inn Ellesmere Port
Saturday 1:00pm Holiday Inn Ellesmere Port
Sunday 11.30am Mercure Abbots Well Hotel Chester
Sunday 1:00pm Mercure Abbots Well Hotel Chester
Sunday 2:00pm Mercure Abbots Well Hotel Chester
Sunday 3:00pm Mercure Abbots Well Hotel Chester
Sunday 2:00pm The Queens School (Lower), Chester
Sunday 3:00pm The Queens School (Lower), Chester
Dippers: 2.5yrs – 4 years (Child accompanied with guardian in water)
By invitation only
Swim Academy Programme (suitable for ages 4 years – 10 years old)
(Child taught in water whilst parent/guardian spectates on poolside)
Swim Academy: Level 1 – Beginners
 Tuesday 5:00pm Oriel House and Spa Hotel, St Asaph North Wales
Wednesday 4:00pm Oriel House and Spa Hotel, St Asaph North Wales                                                                                            
Saturday 2:00pm The Queens School (Lower), Chester
Sunday 12:00pm The Queens School (Lower), Chester
Swim Academy: Level 2 -Beginners
Tuesday 4:30pm Oriel House and Spa Hotel, St Asaph North Wales
 Sunday 3:45pm Kingsmead School Hoylake
Swim Academy: Level 3 - Intermediate
 Tuesday 5:45pm The Queens School (Lower) Chester
Tuesday 6:00pm Oriel Hotel and Spa Hotel, St Asaph North Wales 
Tuesday 6:45pm The Queens School (Lower) Chester
Thursday 18:15pm The Queens School (Lower) Chester
Saturday 3:00pm The Queens School (Lower) Chester
Swim Academy: Level 4 - Intermediate
Saturday 10:30am The Queens School (Lower) Chester
Sunday 1:00pm The Queens School Chester
Elite Swim Academy: Level 5 - Advanced
Thursday 6:15pm The Queens School (Lower) Chester
Elite Swim Academy: Level 6 - Advanced Pre Swimming Club Level
All classes fully booked