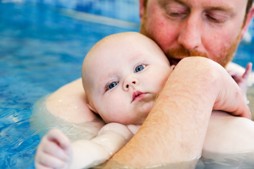 There's no minimum age to join our Floaties class, all that we ask is that baby's umbilical cord has healed. The NHS guidelines are that you don't even need to wait until after immunisations before getting your bundle of joy splish-splashing in the water!
During our Floaties classes, you will have time to really focus on your baby one-to-one. It's a great way to bond and an enjoyable way for you both to relax together, plus to learn essential personal survival skills in a multi-sensory environment, building confidence and trust in the water. You can read more about the benefits of taking a baby swimming here, or watch our video here.
Suitable from birth to 6 months old.
Maximum of 9 child/guardian pairs: 1 teacher also in the water.
Weekly 30 minute lesson.
Our expert teachers adapt activities to suit your child's ability and confidence.
To find out about your nearest class or to enquire about free tasters, please fill in the form below and we will get back to you (please do not turn up to a class without a full booking confirmation).