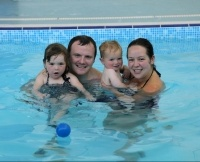 He's an ambassador for Help for Heroes, has competed with the British Disabled Ski Team, played a key role in The Royal British Legion's Poppy Appeal and is currently working with emergency search and rescue organisation Serve On. Yet what Peter will really be celebrating is being a great dad who can now enjoy the things he'd love to do with his children that others may take for granted – like swimming.
Back in 2009, Peter Dunning became one of the faces of the Afghanistan conflict. He'd been a Royal Marine serving out there the previous year when the vehicle he was travelling in hit an IED (an improvised explosive device) on the last mission back to Camp Bastion. The driver was tragically killed and he and his colleague sustained life-threatening injuries. For Peter, saving his life meant that medics had to amputate both his legs – one through the knee and one just below.
Whilst an amazingly positive and determined outlook, not to mention prosthetic legs, have meant that Peter has been able to enjoy most activities with his children, swimming always proved a challenge. The computer chips in one of his prosthetics weren't waterproof so wearing the legs in pools on family holidays sadly wasn't an option. Whilst Peter always managed, this often came in the form of being confined to the shallow end and relying on wife Laura to look after Ava, now 3½ and Noah, 21 months, in the water.
This continued back at home in Wallasey as the children embarked upon swimming lessons at Kingsmead School Pool in Hoylake. After nearly drowning as a child herself, Laura was adamant that the children should learn this vitally important skill. Yet Peter was confined to the poolside as Laura took to the water to support Ava and Noah's swimming journey. He said, "I went to a couple of lessons and watched from the side. It broke my heart though as I couldn't get involved so in the end I stopped going."
However, Peter's frustration came to an end earlier this year when new funding was set aside for retired servicemen like him to receive the same level of care as those still serving. This support enabled him to receive a new, improved and most importantly, waterproof prosthetic. From then on, he went to lessons straight away. Both parents were nervous of the outcome but Peter so was keen to get in the water with his children that neither need have worried.                                               
Peter says, "It's meant a better quality of life for me and the children. The difference it's made to Laura too is massive. Now both of us can take a child each to swimming classes, with Ava being involved in the weekly decision as to who she wants to swim with each week.
Puddle Ducks have been great throughout and our teacher Helen just treats me like any other parent. It's a great way for me to spend time helping the kids develop such an important skill and I'd definitely recommend any dad to get involved."