What is actually involved in taking children with life-limiting illnesses away on a trip of a lifetime? And surely Diabetes isn't that bad? Paediatric Diabetes Specialist Nurse Brenda Light from Arrowe Park Hospital shared her experience of her time on these trips and just why her expertise is invaluable to Northern Lights Childrens Charity.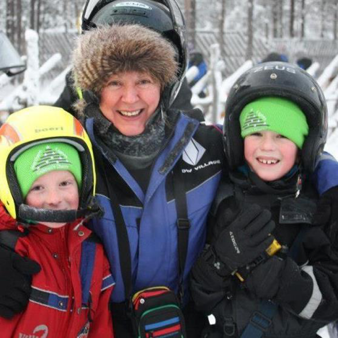 "I was asked by Northern Lights Children's Charity to nominate some of the children who have diabetes to attend a trip of a life-time to Lapland for 5 days. There are approximately 150 children living with diabetes on the Wirral, 70 of whom are under the age of 10 years.
The children who had been nominated were so excited to have been chosen but because of the intense management of Type 1 diabetes which involves 4 - 6 injections each day with as many finger pricks to check blood sugar levels and the knowledge of how calculate the carbohydrate content of food that is about to be eaten as well as taking into account the excitement, cold and emotions being away from home that also affect blood sugar levels, I was asked if I could accompany the children.
The management of Type 1 diabetes in children is something that most people do not know about as most of what the children and their families have to do each day to keep their children alive is done behind closed doors each day, 365 days a year.
The children were dropped off by parents the evening before our early start the following day and after a round of blood sugar testing and night time insulin injections the children settled off to sleep. Off to the airport, checking in 16 children was like a military exercise that ran so smoothly due to the Northern Lights team who had done the trip so many times before.
All ready to board the plane when it was realised that one girl had packed her insulin into her main case which was now in the hold. Not only did she need her insulin injection with her food during the flight but the insulin would get frozen and would be of no use once it had been defrosted. Ooops! That delayed the flight for some time whilst her bag was found and insulin unpacked and safely stored in her hand luggage.
I could not believe how much snow there was in Lapland when we arrived!  It was absolutely magical and so cold but we were soon kitted out with snow suits and boots. The next few days were fun packed. Husky dog rides, reindeer rides, tobogganing, meeting Santa and his helpers in his house, swimming, bowling and the amazing party where everyone looked so smart in their party clothes.
By the end of the 5 days I was exhausted physically and emotionally. However, I will never forget the amazing time I had in Lapland.  The children had made new friends and will have memories that will last a life-time. 
My Facebook status following the trip read…
"For 5 days have supervised/given over 90 injections, well over 100 blood tests, carb counted as many meals and adjusted insulin taking into account the cold, exercise, food and excitement for 5 fantastic children. The other 11 children who also have life-long/life threatening conditions have had the time of their lives thanks to Northern Lights Children's Charity. Exhausted and emotional but have lots of happy memories and looking forward to a big glass of wine and a full night's sleep. Thanks to all the people who made this possible for such very deserving children who have gone through so much in their little lives. xx"
With such important attention to detail, it's no wonder that Brenda's expertise was needed for the trip and this year, for the first time, it's hoped that a doctor will also accompany the Brenda and the team to Lapland. We'd love to raise as much money as possible to support this brilliant cause and if you've not already donated, you can online here
Thank you! x