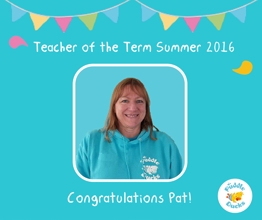 Thank you to everyone who nominated their teacher for Local Teacher of the Term recently. Congratulations to our amazing teacher Pat for winning this term's accolade. We had some great responses from our parents but Angela Donnelly's nomination really stood out.
"Sammy has always loved his swimming lessons but when we moved up to Dippers, he had a total regression. He used to scream if he didn't want to do anything, would cling to me, wouldn't go to Pat and even refused to get in the pool at times.
Throughout it all Pat has been fantastic. I've been close to tears on some lessons thinking of stopping altogether as I didn't see the point. Pat has adjusted lessons accordingly to help Sammy, kept Sammy calm, kept me calm & just been amazing. I did enrol again and I'm glad I did. Sammy has started to enjoy swimming again. It's fantastic to see considering he wouldn't even look at a woggle at one point. To top it all Sammy got his 5 metre swimming badge a few weeks ago and I couldn't be prouder! It's all thanks to Pat and Puddle Ducks!
Pat says, "I've known Sammy since I first started teaching with Puddle Ducks! He went through a phase earlier this year where he wouldn't do anything for me or his Mum in the water and had a fair few tantrums. However, I just played it cool by not forcing him to do anything, making it lots of fun and not pandering to his outbursts! He eventually came round; it took a few months and he began to swim with confidence like we knew he could. He then does everything, even volunteering to show the other Dippers how things were done - such a change!!
Thanks also to Hanna Clarke from the Chester Babygrow Appeal charity for judging the nominations.
She said, "Pat has been consistent in her support of Sammy, throughout what seems like a challenging time for both mum and Sammy. Here at the Babygrow Appeal, we love to hear about children thriving in the face of adversity so this story really rings true for us."