Over the next few weeks, some of you may be joined in your class by one of our of new trainee teachers, Roshene or Michelle.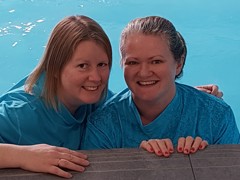 Having already spent over 100 hours in the classroom/pool learning the theory of being a Puddle Ducks teacher, it's now part to put that learning into action, by co-teaching the classes with our experienced teachers. It's an essential part of any of our teachers training, and we are always very grateful to all the parents and children who support our new teachers on their journey.
So, what do we know about Roshene and Michelle, lets introduce Roshene first……
Roshene is already a member of our Puddle Ducks team, working on Poolside at the Mercure Abbotts Well Hotel in the week. This was all part of her masterplan to eventually train to be a teacher, having first spoken to us about it 3 years ago.
Roshene is a Puddle Ducks mummy through and through. She has three children aged 7, 4 and 2. All of whom started their Puddle Ducks journey as newborn babies, and all of whom still swim in a Puddle Ducks class each week. Safe to say that Roshene completely supports the Puddle Ducks method of teaching, and has a great deal of experience as a mummy.
Originally from Cape Town in South Africa, Roshene grow up with a swimming pool in her back garden, so swimming and water safety was a way of life from a very young age. This made it even more essential to ensure that her own children were safe around water (plus living in a house that backs onto a canal!!!).
Out of work, she loves travelling (although a tad tricky with 3 young children on a long-haul flight), and experiencing different cultures and especially different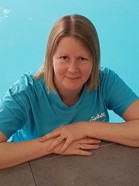 foods. She loves food, cooking and is a dab hand at a bit of baking, you never know, we may see her on "Great British Bake Off" one day.
Roshene says "I want to be a Puddle Ducks teacher to give children and their parents water confidence which lasts a lifetime:  to have fun, be safe and enjoy being in water, be it in the sea, pool or open water. I have thoroughly enjoyed each of my children's experiences in Puddle Ducks, from Floaties onwards, and want to be able to give other parents this opportunity"
Michelle is another Puddle Ducks mummy, who has two children aged 2 ½ and 6 months, both swimming in a Puddle Ducks class each week. Just like Roshene, Michelle has always harboured a masterplan to train to be a teacher, having first spoken to us almost 3 years ago, just before the birth of her first child.
Currently a Secondary School Maths teacher, Michelle is keen to stay in the business of educating children, but having more of a work life balance now that she has a young family. So, she's swapping teaching teenagers maths to teacher babies and toddlers swimming. A very natural fit bearing in mind she's a keen s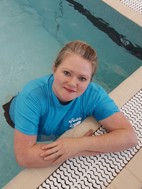 wimmer with a passion for education.
Michelle originally comes from the South of England, but relocated to the Wirral to be with her husband, who is a local. They met when they were both Butlin's Redcoats at Butlin's Bognor Regis, now there's a love story for you. She loves dancing and attends a weekly adult tap class. She's also partial to a bit of Karaoke, so that's the next team night out planned.
When asked why she wanted to be a Puddle Ducks teacher, Michelle said "I have loved watching my own children grow and develop in their Puddle Ducks classes. I have experienced the bonding between parents and children myself, and want to give that back if I can. I love educating children, no matter what age, there is nothing better than seeing that light bulb go on when a child finally gets it"
So, what do Michelle and Roshene say about the Puddle Ducks training process so far?
"Well it's been daunting, but also loads of fun so far, especially with Bob the mannequin who we had to rescue from the bottom of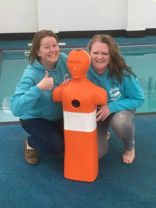 the pool on our lifesaving course" says Roshene, "you think that having had 3 children go through Puddle Ducks classes, you would know much more. But after days of long hard work in the classroom and hours in the pool, you realise how much more there is to learn. I'm excited about teaching and want to get going with co-teaching"
Having completed her PGCE, Michelle knew that it was going to be a very involved process. "I've loved every stage, but it has been very challenging, with a lot of commitment, travel, time away from home and hours in the pool. There is so much to learn and experience before you reach the finish line. This is what I want to do and an investment in mine and my families future, and I cannot wait to start teaching my own classes and getting to know my own little Puddle Ducks."
So far, Michelle and Roshene have completed three separate training courses, with trainee teachers from across the UK. They've benefitted from the expert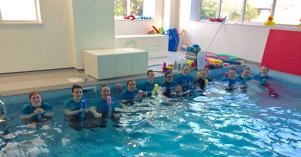 teaching of Puddle Ducks head office technical team, and are now putting it all into practice with the support of our own experienced teachers in the Chester and Wirral franchise.
So, if you see either of them in your class, give them a little encouraging smile, you and your child are helping shape our future Puddle Ducks teachers, and we are extremely grateful for your help. Thank you.