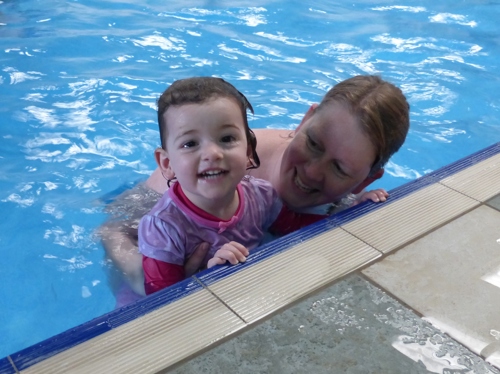 As Charity PJ Week launches, and we hope to raise as much money as possible for R Charity and Northern Lights Children's Charity, we thought it also important to remember why we have PJ parties throughout the year and across all Puddle Ducks classes in the UK.
Most accidents involving water happen away from swimming pools and often whilst children and adults are fully clothed. We want our Puddle Ducks children (and parents!) to get used to how it might feel like to be in the water with their clothes on. All of our classes have a water safety element to them each week. Our Pyjama Weeks provide an opportunity to see how it would feel to be in the water and show them that they can still swim, practice moves like turning and generally stay safe.
Puddle Ducks mum Roshene knows only too well the importance of PJ Week and is grateful that her daughter Caitlin has regular opportunities to practise these important skills during class.
The family's home backs on to a canal and so they're already aware of the need to stay safe around water. The back gate onto the towpath is, of course, locked and both parents remain vigilant if ever it is open. However, as we know, toddlers make the best escape artists and on this occasion Caitlin managed to sneak past her dad and out onto the towpath. What happened next occurred in just a stomach-lurching split second. 20 month old Caitlin ended up in the canal, on her own. The amazing thing is that she didn't panic and she didn't get into difficulty. She merely turned onto her back and floated, whilst her dad jumped in to rescue her. Mum Roshene strongly believes that her love of swimming and the skills she learnt in class helped to keep her calm in the water.
Caitlin thankfully suffered no ill-effects at all from her accident and still loves swimming now. She's fearless in the water during lessons and is always ready to try new things. It's safe to say that she'll be ready to practise her water safety skills again during PJ Week this week!
Puddle Ducks Chester and Wirral and Puddle Ducks Merseyside will be joining forces during 7th – 13th Novmber to raise money for Liverpool's R Charity and Wirral's Northern Lights Children's Charity. If you're coming to class, don't forget your purse and PJs!