Thank you again to everyone for taking the time to vote for a charity to support during PJ Week. Amazingly, not one but two organisations received the most number of votes and we couldn't possibly have chosen between the two.  We're now on a mission to raise as much money for R Charity and Northern Lights this year during our Charity Pyjama Week.
R Charity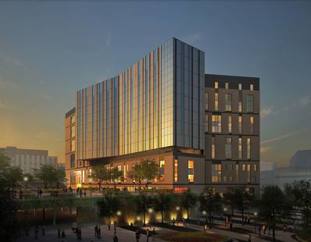 R Charity is a Liverpool charity that's raising funds for projects at the new Royal Hospital. These projects go above and beyond the NHS promise of care which will mean a world class hospital right on our doorstep. They need our help though and during PJ Week, we'll be raising money for the Breast Cancer project.
R Charity want to raise enough money to buy three 3D mammography machines for the Unit. These state of the art machines will help to diagnose cancers and abnormalities earlier. Earlier diagnosis means a cancer is less likely to spread to other parts of the body, giving a better chance of a full recovery.
Studies have shown that these machines are up to 40% more effective at diagnosing breast cancer than current 2D machines. It's a mind boggling statistic and whilst we hope that no-one should have to face this type of cancer, it would be brilliant to be able to bring this high tech equipment to our local area. We're proud to support this brilliant and worthy project and hope you will too.
Angela McShane Community Fundraiser at R Charity said, "A massive thank you to all who voted for us to be the charity of choice for Puddle Ducks, it is a huge honour! Out of so many worthy causes I was delighted that the general public took the time to vote for us. The money you donate will make a huge difference to the patients who visit the mammography suite in the New Royal."
Northern Lights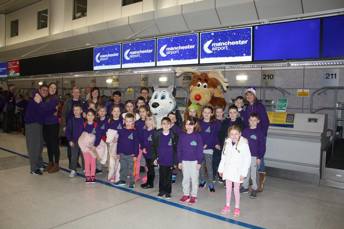 Northern Lights Children's Charity is a local, Neston based charity, run entirely by volunteers, who work to take children aged 6-11 with life-limiting illnesses on a holiday of a lifetime to Lapland to see Santa.
The children taken on these holidays come from the North of England and are nominated by medical staff and social workers at the hospitals that they attend. The medical staff are able to identify those that are most in need, with illnesses such as diabetes, cancer, Cystic Fibrosis and heart conditions. Every year they take children along with volunteers and nurses for an amazing 5 day trip to experience the magic of Christmas in Lapland.
Northern Lights Children's Charity has been offering these fantastic holidays to children for nearly 30 years and it's amazing what they have achieved purely as volunteers. This has been recognised in their recent Points of Light Award and The Queen's Award for Voluntary Service (the highest award given and known as the MBE for volunteer groups).
Chair Karen Jones said, "It is an honour to be nominated by Puddle Ducks as one of their charities for this year's PJ week.  It is always nice to have children raising money for other children who are learning to cope with life-limiting illnesses and as we are a small local charity it helps in increasing the awareness in the work that we do.  Thank you for supporting Northern Lights."
R Charity and Northern Lights Children's Charity are two charities with two different but very worthy aims. Last year you helped us to raise the most amount of money during Charity PJ Week out of any Puddle Ducks franchise in the UK. We hope you'll continue to be as generous this year and raise even more for these fantastic charities.
For more information about either charity visit R Charity and Northern Lights Children's Charity.
To download a sponsorship form for your Puddle Duck's sponsored swim click here