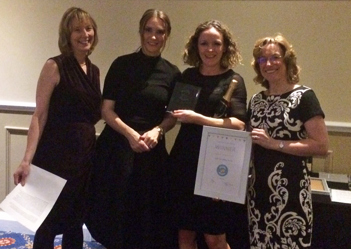 Every year all of the Puddle Ducks Franchisee's meet for our annual conference, there are new faces every year as our network and coverage increases. The evening before the conference we get glammed up and have a lovely Gala Dinner, this is a great time to catch up with our colleagues, share news, gossip and have a glass of wine (not to many as we start bright and early the next day)
And there is an awards presentation too, this year (Feb 2016) I was thrilled, delighted and rather shocked to be the recipient of an Award and it takes pride of place in the Puddle Ducks office
The Conference is always jam packed with great speakers, business advice, Updates on new products, technical, marketing and financial and industry news. We all leave with a spring in our Step, motivated, energized and for me anyway a huge To Do List.
This was our press release -
Local business woman Cate Woodrow-Smith is celebrating after winning the Award for Excellence at the 2016 Puddle Ducks annual conference. Cate is the owner of Puddle Ducks Derbyshire which offers swimming classes for babies and children up to the age of 10 years old.
 The award recognises Cate's professionalism commitment to customers, fellow franchisees, suppliers and Puddle Ducks head office.
 Tracy Townend, Puddle Duck co-founder commented: "Cate is an absolute pleasure to work with. She always professional and totally engages everyone that works with she regularly supports other franchisees and really drives her business forward.  Year on year she has demonstrated a sustainable business with profits increasing steadily.  More recently she is showing the same track record with retail sales.
 On receiving the award, Cate said: "I was totally thrilled and rather surprised to win the award, I just get on with the management of the business I have a passion for every day, but it was wonderful to gain this recognition amongst my equally talented fellow franchisee's"
 With classes perfectly tailored to suit your child's age and confidence, Puddle Ducks classes are full of songs, rhymes, games and activities working towards little one swimming independently, safely and happily, both above and under the water.