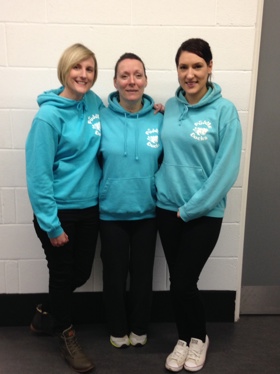 This term we have 3 new Puddle Ducks Baby and pre-school teachers!
They are Kate Archer, Kerry Dale and Julie Lord, Julie already teaches Swim Academy but was always keen to teach other disciplines within the franchise. All 3 of our new recruits are Puddle Ducks mummies and have that passion to teach our classes and the knowledge that comes from being a Puddle Ducks parent…they just get us and understand  #ThePuddleDucksDifference
From the left, Kate,Julie and Kerry…the 3 Musketeers !
 A lot of Puddle Ducks mummies are interested in teaching for Puddle Ducks, it does look on the surface to be a really lovely job and it most definitely is for the right person.
 Traning to become a teacher takes a lot of commitment in terms of time and cost before you can earn your firsy pay check.
 So what's involved ?
 There is an initial interview when we need to recruit, you will be asked to do a presentaiton about why you want to work for Puddle Ducks and why you are the best candidate for the role. Then stage 2 you will be observed in the water at one of our pools with a qualified teacher just so we can see how you interact with our customers and how comfortable and relaxed you are in the pool envoroment.
So we offer you the role….yipeee, then the hard work begins, as a pre-requisite you will need to gain your STA Baby and pre-school award and an acceppted Lifesaving qualification too. Puddle Ducks has an amazing team of tutors that can deliver these courses or you can find one more locally to you at a time that works better for you too. You can find a full list of courses here
 Then we ask you to co-teach with one of our expereinced teachers as often as you possible can, more time in the pool = a greater underastanding of our unique activities
 Once this has been achieved you will have already been booked onto our in house 5 day Puddle Ducks course, each day you will learn about our 5 Baby and pre-school programmes, Floaties, Splashers, Kickers, Little Dippers and Dippers, time is spent in the class room and a lot of time in the pool too.
 Once you have completed the course your final assessment date will have ben set and you can start teaching elements or all of the lesson plans in the classes within the franchise, the more practise the more prepared you are for your big day.
 You are given a specific lesson plan to teach which contains a lot of our main/key activities and you are observed by a qualifued asessor, they fully expect nerves to be present but they also know a good teacher when they see one too. Hopefully you sail through this final stage and then…you are a Bonafida teacher and you sety sail into the sunset to teach your very own classes. But we don't just leave you to it, there is a whole host of support from your Senior teacher, franchisee, manuals, teacher forums and we will pop along to observe you in your 1st term to ensure you are teaching to the required standards. One thing we can all say as teachers we never ever stop learning and growing and yep it is #bestjobever
Each week there are new lessons plans to learn and memorize, registers to update after classes, health and safety paperwork to complete beofre each teaching session, CPD'S must be earned in the teaching year, lifeguard renewal every 2 years and it is compulsory for team members to attend our termly meeting too.
Cate