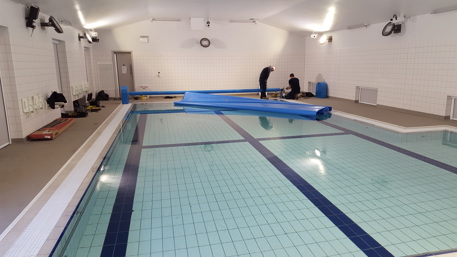 We are thrilled to announce that we will be launching classes at the brand spanking new Hydrotherapy Pool at the Alfreton Park School from Monday 20th February.
The pool has recently been re-built after the original pool was used for many, many years and classes taught by the legendary Margaret Clarke it was evident that a new pool was desperately required to provide the stimulating warm water environment needed by the school's special needs pupils and for the community too.
We were hopeful of obtaining some pool time at this fabulous new facility and we have been granted an hour on Monday, Tuesday and Wednesday. The changing rooms are spacious and of course lovely and clean being brand new, the water is lovely and warm, there is seating provision for spectators and the latest technology is being used for the pool dosing, heating and lighting. They have also incorporated a sound and sensory lighting system which I am sure their pupils will love.
This has all become possible due to the tireless fund raising efforts of Margaret Clarke, the governors and parents of the pupils at the school, a little help from a Lottery Funded grant too has helped to build this fabulous pool, we are very excited to be able to offer our Baby and pre –school classes here and look forward to welcoming new and hopefully returning customers too.