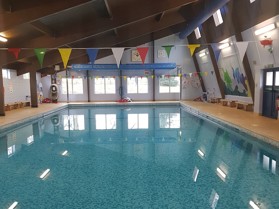 Fabulous news! We are launching new classes for both Baby & Pre School and Swim Academy at a lovely pool near Thringstone in Leicestershire. 
These will be the first Swim Academy classes we have been able to offer to our recently acquired Leicestershire customers, so we are thrilled our little swimmers can now progress past Dippers level and continue their swimming journey with us. 
The pool is situated within Grace Dieu Manor School, a beautiful private school with lovely grounds. With exclusive Puddle Ducks use, this extremely well maintained pool is perfect for our families to swim in and has lots of parking for our customers.
We will be here on Saturdays from 11:15am - teaching 4 Swim Academy classes for children aged 4yrs+.  From 1:15pm we will have 2 classes at Baby & Pre School level.
To celebrate these new classes we're running an introductory offer for new customers of 9 classes for the usual 8 class price of £100! So that's 1 free class!!
 If you know someone you think this pool would be perfect for, let them know all about our classes. If they join us you are entitled to a £10 credit on your account.
Rebecca is ready and raring to start these classes from Saturday 24th February. 
Please click here to enquire about your space!