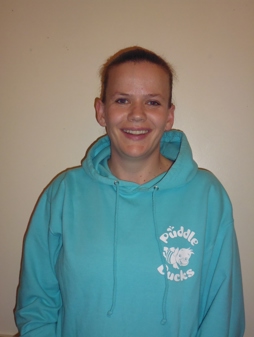 We are over the moon to announce Rachael as our Autumn 2018 Teacher of the Term!!
The winning nomination came in from Matthew and daughter Bethany, a Little Dipper who swims with Rachael at DW Derby on Sundays.
"Rachael is a fabulous teacher; her enthusiasm and passion is infectious. Although she was away for a short spell with her wrist this made no difference with the connection she has with her class. Rachael has a terrific ability of making each little one in her class feel special and it is obvious she has individual bonds with each one. Her warmth and kindness shines through her lessons. She understands every little character and knows exactly how to get a child's cooperation with the parent's support.
Our daughter Bethany adores Rachael and to Bethany, she is like a member of our family. Rachael is the reason Bethany loves swimming and is learning to swim so well. She is a wonderful teacher and we will miss her very much when she leaves". Matthew, Sarah & Bethany
This term, our independent judge was Liam from the newly launched Little Starts Gift Cards 
Take a read at his experience of judging our termly competition and why he chose the winning nomination  - "First of all I just wanted to start by saying I was blown away by all the fantastic comments the parents have said about your teachers – it must be very rewarding to see the enthusiasm, passion and dedication of your teachers being recognised by the parents in such a personal way.
It was really difficult to pick an overall winner - there were so many that stood out to me, and I could have easily awarded several winners from the list of comments.  
In the end, I made my choice. I thought the particular feedback on this teacher was absolutely brilliant. It really stood out as soon as I read it. 
I loved how the teacher was able to form unique bonds with all the children in the class and was then able to use these connections to know exactly how to get the children's cooperation.
It is really great that a parent was able to identify this, not just for their own child but for the whole class.  This is a real skill and I think it can only be done when a teacher has a real passion for what they are doing!
Furthermore, warmth, kindness and enthusiasm are exactly the type of words every parent would love to hear when looking for a teacher. It is obvious that she has inspired Bethany to have a love for swimming which I am sure will stay with her for a very long time!  - Absolutely fantastic job. Well done and very much deserved! "
Franchisee owner, Cate said: "I could not be happier or prouder of Rachael for winning teacher of the term. What a fantastic end to her Puddle Ducks teaching journey with us, as she moves on to developing her own franchise business "Creation Station".
Rachael has always found teaching to come naturally to her and is very much loved by her little Puddle Ducks and their Mummies & Daddies for her wonderful approach to each individual. We are really sad to be saying goodbye to her this December, but want to wish her lots of luck with her new venture!"
Rachael will now be entered into the national Teacher of the Term competition, alongside the other franchises. Good luck Rachael!