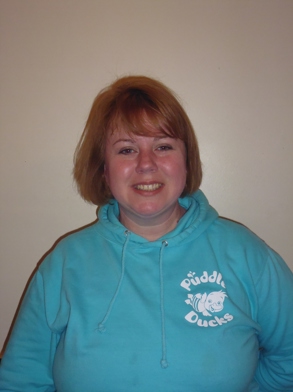 Our judge this term was the lovely Sam from our Hinckley Island Pool. He chose this nomination I have chosen this person due to the amount of time and detail the customer has put into the comments. She must have made an amazing impression on them over the time and shows how dedicated this person is too. Well done to that person!
Here is the winning nomination, which was sent in by Charlotte Walters who takes her daughter Martha swimming. 
 Ann-marie commented "I am delighted to have been selected for Teacher of the Term, it is a great honour and a privilege being part of our Puddle Ducks customers swimming journey, from their 1st submersions to those independant swims.
"Many friendships have been forged over the past 7 years"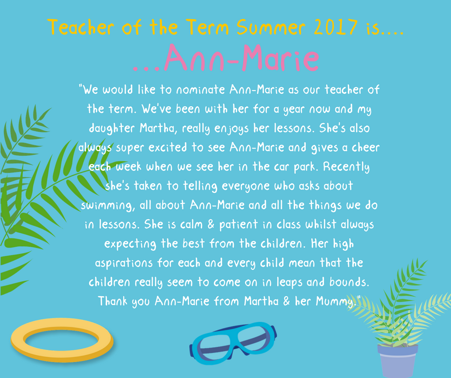 We'd like to say a huge well done to Ann-Marie. She has been a dedicated member of the team for 7 years and was Cate's first teacher she recruited. Ann-Marie has taught so many swimmers over the years and loves her job! 
Cate Says "I am thrilled for Ann-Marie to be chosen this term, Ann-Marie has had so many nominations in the time she has been teaching for us and never fails to be nominatied by her customers each and every term & they are as dedicated to her as she is to them, well done Ann-Marie, I am so proud of you"
Cate