Francesca and her little girl Ava-Grace sent in the winning nomination for Jane. Here is what our judge has to say on the nominations.
"I've chosen this teacher because her obvious passion for the job shines through the parent's nomination. It sounds like this teacher gets as much joy from the lessons as the children do!"
We definitely agree - Jane is such a committed member of the team who has been teaching with us for 6 years. She has a huge fondness for all her little swimmers as do they to her. Well done Jane we are incredibly proud of you.
Here is the winning nomination: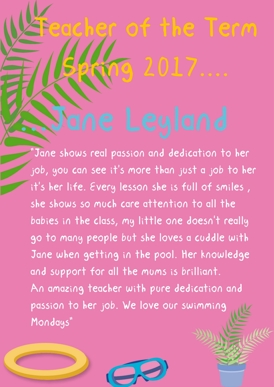 A big thank you to our Judge this term who is the lovely Nadine Peatfield, famed for her  Lots for Tots and Bumps to Five brands  in Derby and the surrounding areas, it was a very difficult choice as there were so many nominations.
Cate wanted to add that Jane is an incredible team member and has a senior position within the franchise as our Head of Teaching. I am thrilled that Jane was chosen, she is such a wonderful teacher who always receives so many nominations. We are very proud and I know your customers just love your passion and commitment, this shows in everything you do .