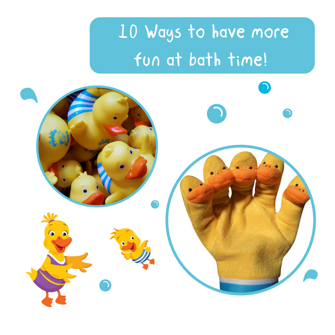 The bath is a great place to help babies and children get used to the feeling of water and it is a great place to practice the activities that you learn at Puddle Ducks! 
Here are some activities from the STA (Swimming Teachers Association) that you can do with your child to make bath time even more enjoyable: 
Encourage baby/child to splash their hands and toes. To encourage them, use the rhyme 'this is the way we splash our toes' 'this is the way we splash our hands' or use the Puddle Ducks bath mitt or rubber ducks to sing the 5 Puddle Ducks song!
Using a cup or watering can gives them an opportunity to play and explore how the water moves. They can also pour water onto different parts of their bodies as they play
Place a ball on top of the water, push it down and let the ball pop up out of the water
Use a mirror to play Peek-a-boo. Try putting bubbles on top of baby/child's head - this may amuse them and help them relax 
Place floating boats in the water and encourage your baby/child to blow the boats along. You could join in and have a race as confidence grows
Encourage baby/child to kick their legs, pushing the boats out to sea with the big waves they are making
Try making a bubble bath party using 4 tablespoons of baby shampoo or bubble bath into the bath to see how many bubbles it makes. Add food colouring to the bubble bath however you need to rinse the bath thoroughly after
Add some sinking toys into the water and encourage baby/child to look and reach for them
Use building blocks to allow baby/child to build towers and knock them down. splashing in to the water
Sing the wheels on the bus using different actions for the different verses.
Wheels on the bus go round and round (move hands around in the water)
Wipers on the bus (move baby/child side to side)
Rain on the bus (using your hands make droplets onto baby/child's head)
Horn on the bus (splash hands, like a beeping horn)
Remember: 
Never leave a baby or child unattended in the bath
Always make sure you check the temperature of the water before a baby/child gets in 
Look out for clues that a baby is getting cold or has had enough: shivering, crying or lip trembling
Make sure there is a towel at hand for when a baby/child comes out of the bath. Dry them as quickly as possible.