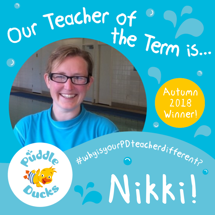 We are delighted to announce that the Teacher of the Term for Autumn 2018 is Nikki! 
Thank you to everyone who nominated their teacher in our Teacher of the Term competition. We received lots of nominations and some really lovely comments about all of our teachers - they were lovely to read and we are proud of all of them! 
The difficult task of deciding who would be our local winner was handed to Bex Proctor, who is the Treasurer and Social Media Coordinator for the NCT Doncaster. 
Bex selected the nomination made by Rachel, Mum to Robyn, who swims with us at John Whitgift Academy. Nikki was their Teacher of the Term because "Nikki treats all the children as she does her own and this shows in her trust of her and their willingness to do what she asks, with her encouragement. Robyn loves her swimming classes with Nikki and has gone from strength to strength. She will always listen to what Nikki tells her...a very rare thing at home. Nikki observes and supports the parents too - when a child may not seem keen on trying something new, Nikki will come to support Mum or Dad and Child. Thank you Nikki for all you do, not just for Robyn, but for everyone. You are the reason we are still at Puddle Ducks 3 years on." 
Bex said, "the fact that they have continued swimming for 3 years due to their teacher is amazing - this is why they are so important and should be appreciated. What an achievement! The hard work the teacher has put in to her techniques and encouragement should be praised. The fact that the child listens to them and responds during the lessons highlights that the teacher knows the children and how to keep them engaged and involved to get the most out of classes." 
Well done to Nikki, who will now be entered in to the national Teacher of the Term competition, so we will keep our fingers crossed!