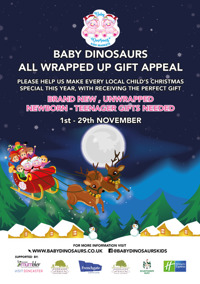 We are delighted to be helping Baby Dinosaurs this year with their Christmas Gift Appeal. 
Last year they helped over 500 children who may not have received a gift otherwise, have something to open on Christmas Day. 
Throughout November you can drop off new, unwrapped gifts (newborn to teenager) at our classes and we will pass them on to Baby Dinosaurs. 
They are also holding wrapping days in various locations across Yorkshire, Lincolnshire and the Humber. If anyone would like to help wrap gifts, please find the information on their website here.