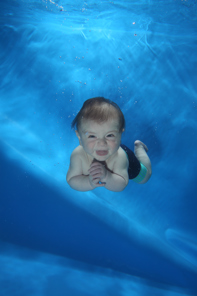 Our underwater photoshoots are a firm favourite with many parents. The resulting pictures are often cherished by families for many years after they are taken, taking pride of place on the mantlepiece or in family albums.
These professionally taken photos capture the bubbles, smiles and splashes forever, and can provide happy reminders of your child's younger years and the fun they had learning to swim. 
About the shoot
Photo shoots are split into 20 minute slots, each with a maximum of five babies While you wait for your turn with the photographer, a Puddle Ducks teacher will be in the pool and do a mini-lesson so that you and baby feel relaxed and enjoy the day

Each baby will have a minimum of three submersions with our specially trained Puddle Ducks submersion teacher and the photographer

You are welcome to have a photo with your baby or just have them on their own

There is a minimum requirement of one adult per child, so if you have booked siblings together please bring along another adult

The booking fee covers the cost of the session and does not include any prints – see below for print prices.
Who should attend?
Your teacher will be able to advise if your child is ready for underwater photography, but these are useful guidelines:

Floaties and Splashers are usually very comfortable during the session. We'd advise bringing your babies when they're at least 10 weeks old, as they can't hold their heads up before then so it's harder to get a great photo

Dippers and Dabblers usually love swimming under the water towards their parents and are unfazed by the photographer - these are often the best photos with lots of smiles.

Kickers and Little Dippers don't tend to be as happy because: They're less likely to enjoy submersions at this stage, they can feel intimidated by the camera and/or photographer, they don't like being handled by a teacher they are not familiar with. We would therefore not recommend a Kicker or Little Dipper attends an underwater photo shoot UNLESS you are very confident that the child will enjoy the experience (action photos at the over-water sessions would be wonderful!)
About our photographers
Over the last five years, Puddle Ducks has worked in partnership with Colex Photography, who perform all of our underwater shoots. This relationship ensures peace of mind:
Before being allowed to take photos during our shoots, Colex photographers have been CRB checked and have also passed our swimming teacher training

From both the set up and equipment, to the extensive knowledge of working with babies to capture beautiful quality underwater photos

The photographer is supported by one of our senior teachers, who has received additional submersion training to ensure you baby is not only safe and happy, but also improve the likelihood of getting a fabulous photo
Viewing your images
After the photo shoot (usually within 72 hours) you will receive log-in details from Colex Photography to view the photos from your slot online.
Please note, you will see the images from the whole 20 minute slot, including other children.

Photos viewed online will be untreated, as taken on the day and also feature a watermark (to prevent unauthorised copying of images).

Should you purchase any photos, they will be professionally edited free of charge to ensure the best possible print quality and clarity of image.
If you're interested in more information or would like to book a place, on our Underwater Photoshoot at Epworth Pool, Burnham Road, Epworth, Doncaster, DN9 1BZ. Call us on 07884 933789 or email doncaster@puddleducks.com