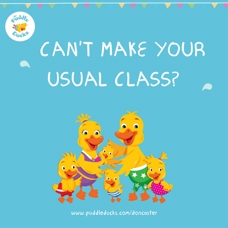 We're aware from time to time that it is not possible to attend your usual class. Maybe your little one is sick or you are going on holiday...
Just let us know and as a goodwill gesture we will offer you a catch up lesson which is available for you to take wherever there is an available space in another suitable class, during the same term 
To let us know that you aren't going to be here for a lesson:
Simply go to your 'My Puddle Ducks' account and click on the 'My Children' tab.
Here you can book a holiday and we will add a catch up voucher to your account that can be used within your current block of lessons. 
Download a useful user guide which tells you all about the features and benefits of your 'My Puddle Ducks' account.