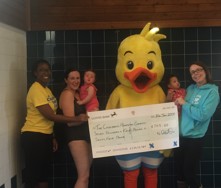 We were absolutely delighted to welcome Cheryl Davidson from our nominated charity, The Children's Hospital Charity to our classes at Doncaster Deaf School last Friday.
Cheryl came along to collect a very large cheque from Puddle the Duck for over £700 - the proceeds from our Pyjama Week last October. 
We are so pleased to be supporting this charity and thank all the customers who donated again. We will be doing some more fundraising for them in the coming months.