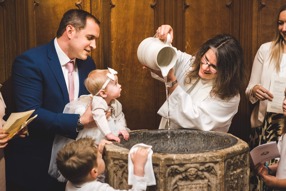 We had a lovely email from one of our customers recently, with a lovely story about one of our little swimmers Florence! 
A few weeks ago, Florence was christened. At the font, when the vicar said "Will she be okay with the water", her parents were able to answer she will be if you say "Florence, ready!". 
The vicar did just that and said that Florence was the happiest baby she had christened. All thanks to her swimming lessons with Puddle Ducks! 
Thanks to mum Emily for sharing this story and some photos! Teacher Gill was very proud and we love hearing about how swimming lessons affect all parts of your life! 
Click to see more about the Puddle Ducks Ripple Effect 
Apparently Florence also wanted to go swimming in the font! Save it for the pool Florence x