We are approaching a big milestone next month...our 5th Birthday!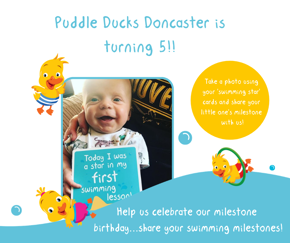 We can't believe that we have been teaching babies and children to teach in Doncaster & South Humberside for five years. It has been a pleasure to see your little ones each week and we are so proud of each and every one of them. 
Please help us celebrate our milestone birthday by sharing photographs of your little one's milestone with us! Whether that is the first time your baby got in the pool, the first time they jumped in, first pyjama week lesson or the first distance swim! All of our customers now receive a set of 'swimming star' cards in their welcome pack, so remember to take your cards to the pool or take a photo at home and send it in to us.  
We'd love to see your photos, also if you were one of our very first Floaties or Splashers back in 2014! It would be great to see how your little ones have progressed. We love the fact that we have helped so many children learn to swim, a potentially life saving skill. Plus, we are all for keeping children healthy and active and hope that our passion and enthusiasm for swimming has rubbed off on them. 
We're hoping to collate lots of photographs of our Puddle Ducks and Swim Academy swimmers and use them as part of our 5th birthday celebration...who knows we may even get them in the paper!
Please send them via the form below: 
Thank you!