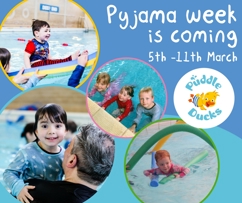 Whilst all of our classes each week have a water safety element to them, our Pyjama week gives all of our swimmers a regular session in pyjamas which will help them realise that although they feel heavier, they can still kick to the surface, turn and reach for the side. 
Our Spring Pyjama Week is taking place between March 5th and March 11th, so we'd encourage all of our babies, children (mummies and daddies) to come along in your PJ's.
Here is what you need to know
Your child (and yourself) will need to wear PJ's. Don't forget to wear your usual double swim nappies underneath if needed
Bring a plastic carrier bag for wet pyjamas as they make bags and towels very wet!
We will have a lot of fun, as well as learning some valuable life-saving skills.
See you in your PJ's!