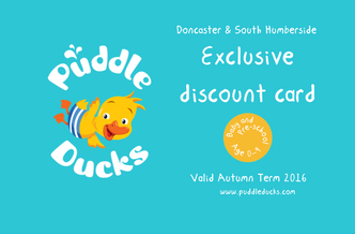 Here at Puddle Ducks we encourage our customers to have fun outside of the pool together too! It's great to enjoy a coffee after your class or schedule a play-date somewhere. 
So...to make that even easier and to say a huge thank you for being a great customer, we have collected some great discounts just for you. 
Exclusive Discounts just for you...
Look out for your new discount card, which will be given out in your class. On presenting the card, you can benefit from the following awesome discounts!
Owston Hall Hotel -  30% discount on everything!* To celebrate our new class venue, you can claim a discount on everything the hotel has to offer. This includes food, drink, accommodation, health & beauty! Whether it is a quick coffee and a cake after class or a pamper treat for yourself, take advantage of this great offer. 
Butterfly Cupcakes, Gainsborough - 10% discount on everything*. Treat yourself after class to a delicious treat!
Time2Play, Doncaster - 50% discount on entry.* This lovely soft-play area has everything to keep your little one entertained...it has a great under 5's area too.
Boston Park Farm, Doncaster - 50% discount on Child's entry.* The perfect place to enjoy the outdoors; feed the animals, explore the corn maze and enjoy the play areas. There is an inside sandpit and crafts for when it's rainy too!
Dandi's, Scunthorpe - 50% discount on Child's entry.* Everything you need to keep your little one happy - a large soft-play area with a lovely toddler and baby area, plus they do a delicious hot chocolate!
Magical Castle, Cleethorpes - £1 entry for Children during Toddler Sessions (9.30am-3pm, Mon-Fri, term time only). A safe and friendly soft play centre for children, with a dedicated area suitable for pre-school children below 90cm in height.
The Fun Run, Goole - 2 for 1 entry. With a separate toddler play frame for the under 4's and plenty of touchy feely sensory toys to stimulate your toddlers, there are also messy play days and craft activities and toddler time.
*offers cannot be used in conjunction with any other offers. 
Have fun with your discount card this term! 

We are always adding new partners, so check your emails and keep an eye on our facebook page for new discounts!