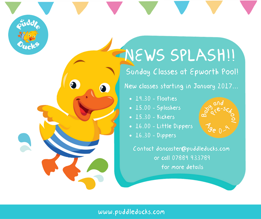 We have some brilliant news! For mummies and daddies that need weekend classes for their little ones. We will be starting classes in January 2017 on a Sunday afternoon at Epworth Pool. Classes will run as follows:
2.30pm- Floaties (0- 6 months)
3.00pm- Splashers (6- 15 months)
3.30pm- Kickers (15 months- 2.5 years)
4.00pm- Little Dippers (2.5- 4 years)
4.30pm- Dippers (2.5- 4 years)- (not a driect entry class)
Here at Puddle Ducks, our classes are split by age, allowing children to be in a class with their peers, which encourages learning and boosts confidence.
We want every child to love swimming, respect the water and swim beautifully. That's why our standards are the highest and our approach is unique.
At Puddle Ducks, our highly trained and qualified teachers are experts at identifying children's levels of ability and adapting activities to the individual, nurturing confidence and encouraging natural ability. This allows every child to progress at their own rate.
For more information or to book your space please get in touch by calling 07884 933789 or emailing doncaster@puddleducks.com 
We look forward to welcoming you to a class soon x