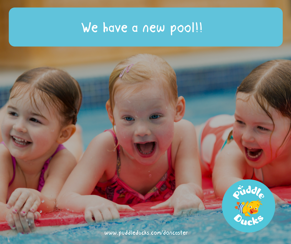 We are delighted to announce that we will be holding our fabulous baby and preschool swimming classes at Loversall Hall after the Easter break! 
This is a lovely private pool and we will hold classes for Floaties, Splashers, Little Dippers and Kickers on on Friday afternoons. starting on the 28th April. 
Come along and join us: 
12:00pm Splashers 
12.30pm Floaties 
13.00pm Little Dippers 
13.30pm Kickers 
14.15pm Splashers 
14.45pm Floaties 
15.15pm Kickers 
15.45pm Splashers 
Special Offer for our new pool! 
Get 8 lessons for the price of 6!  
 Simply quote code 
Loversall846

 when you book your class*

 

We look forward to seeing you! 

 

 

 

 

*offer valid for new customers only, valid until 23.4.17