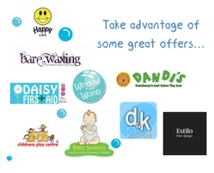 As a big thank you to our Puddle Ducks Doncaster customers, we have collected some great offers from local companies. 
We have special offers from Daisy First Aid, Baby Sensory Doncaster, Happy Cafe, D & K Accounting, Estilo Hair Dressers, Time2Play and Dandi's Play area, plus more offers will be added throughout the term! 
You can collect your new loyalty card in class and find out more about the participating companies here.
We look forward to seeing you in the pool this autumn!