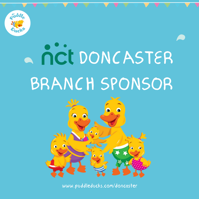 We have been supporting the NCT for  several years, but have recently become their branch sponsor. 
The NCT is the largest charity for parents, helping you to meet a network of local parents through their events and courses. Did you realise that the NCT Doncaster is run by a group of fabulous volunteers? Run by local parents, who offer support, information and friendship to new parents and parents-to-be, there is something or everyone. From antenatal classes, regular bumps and babes meet-ups or social events, so we are really pleased to support their activity.
Take a look at some of their groups and meet-ups in Doncaster and head over to the NCT Doncaster Facebook page to keep up to date with their activities. 
Coming up: 
Useful Information