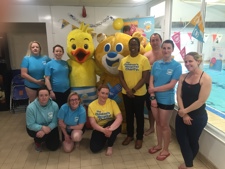 In April, Puddle Ducks Doncaster celebrated 3 years of teaching babies & pre-school children to swim in Doncaster & South Humberside. 
To mark the occasion, we decided to swim 3K, in order to raise funds for our locally nominated charity, The Children's Hospital Charity. We were pleased to swim not just 3K, but 6K! A fantastic effort by our team, which included all of our fabulous teachers, Nicola, Nikki, Rebecca, Liz and Vicky, as well as one of our lovely poolside assistants, Sarah and Caroline from Marketing. We were joined on the team by Rachel at Zen Baby Doncaster and Allison from We Can Run, plus we were pleased to welcome some mummies and daddies too.
It was a real team effort! We had a lot of fun and were delighted to smash our target.
Puddle the Duck came along to offer his support, along with Theo Bear from the Children's Hospital and we are so pleased to announce that the money raised through donations and the raffle amounted to £769!!!
We are so thankful to the Puddle Ducks family, who not only nominated this charity to be the beneficiary of our fundraising activity this  year, but have supported our efforts every step of the way. 
So far this year, we have raised almost £1500 for the charity in total (including our Pyjama Week last November). We are really pleased that we can help this fantastic cause make it better. The money that we have raised will go towards a sensory room on the Neuroscience Ward.