Since Coby was born, he has been attending weekly sessions with us at our Coppice School pool in Hatfield, alongside his visually impaired parents Marve and Becky.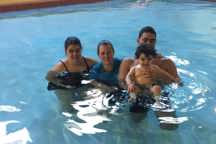 It's such a pleasure to be with the family each week, teaching them techniques such as how to hold Coby in the water and how they can help him with his swimming. 
Read an article published in the Doncaster Free Press recently here...