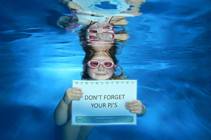 Every term we hold pyjama parties at each of our classes in Doncaster, Gainsborough, Grimsby and Selby.
This term, pyjama week will take place from Monday 27th February until Sunday 5th March.
Why do we hold termly pyjama parties?
Aside from being a lot of FUN...there is a serious reason why it is important for you and your child to experience being in the water with clothes on: 
If accidents do happen, it is often when fully clothed. We strongly believe it is our duty to ensure that our swimmers know what it feels like to be in water whilst wearing clothes. 
Even this short experience will help them to realise that even though they feel heavier, they can still do those all-important reactions of kicking to the surface, turning and reaching for the side. 
We look forward to seeing you during our lifesaving week! We would encourage all of our Puddle Ducks and their parents to swim in their pyjamas.