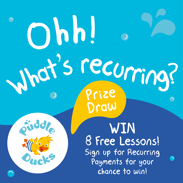 Great news, recurring payments for your Puddle Ducks classes are now available.
Sign up today and we'll do the rest!
When you sign up for recurring payments, you need never worry about missing a payment again and your space in class is secured. Our system will take a payment off your authorised card on your Payment Due Date* so all you need to do is remember your swim bag!
As a thank you for your continuing custom, we'll enter you into a prize draw** to win your next block of 8 lessons, on us!
For more information, read our Recurring Payment FAQs.
If you have any questions, don't hesitate to contact the office. 
*Payment Due Date is the date by which you must pay to secure your child's place for the next block of 8 lessons. Payment due date is 4 lessons before your current block of lessons runs out. All recurring payment amounts will reflect any credits on your account at the time.
**Prize Draw will be drawn at the end of every other month. First draw January 31st. For Puddle Ducks terms and conditions click here