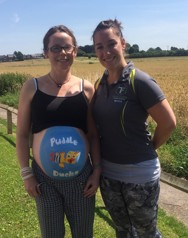 We are all aware how important food and lifestyle choices are when having a baby. Whether you are pre-natal, post-natal or just thinking of starting a family, there are many things that can make a difference to the health and well being of you and your child.
Our franchisee Nicola Codd, who is expecting her third child next month, got some helpful tips on eating healthily throughout pregnancy and beyond from personal trainer Rebecca Hauser. 
1.      Nutrition begins at conception
Remember that everything that goes into your body is absorbed or affects the absorption of nutrients to your baby so make wise choices about eating good quality calories. Starchy foods (such as potatoes, bread, rice and pasta) are great, choosing wholegrain where possible.
2.      Beware of 'Eating for two'
A common myth, dispelled in recent years, but an easy trap to fall in to! You don't need to eat for two. Any additional calories will be stored as body fat. An extra 200 calories a day, during the last three months of pregnancy is generally all you will need, making a total of about 2,200 calories a day. We're all different shapes and sizes though, and some of us are more active than others and you know how much you would usually eat. It's all dependent on your height, your BMI, how active you are and how effectively you burn calories.   
 3.     Take your important vitamins and minerals 
Folic acid, Iodine, Vitamin D, Iron, Zinc, Fibre and Calcium - The increase in these specific vitamins and minerals will help keep your baby healthy and give him/her the best start in life.
4.      Water
This is so important for a lot of reasons, however it is recommended to drink an additional 300ml of water per day to hydrate the body. The amniotic fluid around your baby is primarily made up of water. Additional water can also help on the latter stages of pregnancy with constipation or haemorrhoids.
5.      Foods to avoid when pregnant
This list does seem to change, sometimes between pregnancies! However current guidelines include soft cheese made from unpasteurised milk, fish high in mercury (shark, marlin, swordfish king mackerel or tilefish) or raw fish and shellfish, unpasteurised milk and juice, salads made in store with ham, fish or chicken in them, undercooked eggs and meats.  Ensure all red meats are well done to avoid the transfer of any bacteria.
6.      Breastfeeding
If you choose to breastfeed, you may feel constantly hungry due to the additional calories used by the body to produce your milk. Smart choices with quality foods will help promote weight loss during this time.
7.      Colostrum 
Colostrum is the milk that you produce in the days following your baby's birth. If you are able to breastfeed, it gives your baby enormous benefits in transferring antibodies, helping with the first bowel movement and clearing the digestive tract.
Thanks to Rebecca for these tips! Qualified in adapting physical activity programmes to the needs of ante and post-natal ladies, Rebecca of Transform Fitness Coaching works from a gym in Retford and has her own gym set up in West Stockwith. Ideal for 1:1 training, Rebecca also offers at home training for mothers who do not have the flexibility of leaving their house to exercise. For more information, visit her facebook page