In June we will hold our termly pyjama party, where we will teach our babies and children how it feels to be in the water when clothed.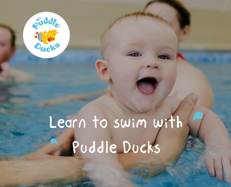 We'll be supporting the STA (Swimming Teacher's Association) in their annual water safety campaign which runs from June 10th-16th. Having seen a little bit of sunshine over the past few weeks, it's more likely that you and your family will be out and about near water at the moment. Our franchise owner Nicola Codd, shares some advice on how every member of the family can stay safe around open water, swimming pools,  whilst on holiday and even in your garden…
Read and listen to any warning signs you find
Do not enter the water in unsupervised/non-lifeguarded areas
Lakes and rivers can be much colder than a warm indoor swimming pool, even in the summer. This makes it harder to swim and more dangerous
Be careful near edges. They could be slippery or unstable
If you do find yourself in a difficult situation, stay calm and try to stand up if possible. Should for help and wave your arm above your head so you can be seen
When on holiday, make sure you have an adult with you and someone on shore who knows you are swimming
At home, don't leave children unsupervised in a bath or padding pool
If you are taking part in activities around open water, make sure that you wear protective clothing
Our pyjama week, in which parents, babies and children take part in classes fully clothed, help children to feel the resistance that the wet clothes create.
If you were to fall in to open water it's likely you would be clothed. In fact, 44 per cent of people who drown had no intention of entering the water in the first place. Water safety is so important. It's not just about being able to swim, everyone needs to be aware of the dangers and how to keep safe.  Our pyjama classes teach our little Puddle Ducks that in the event that they fall in to water, they can still do those all-important actions of turning and holding on to the side, even when clothed.
The STA is a leading UK charity dedicated to the teaching of swimming, lifesaving and survival techniques and we are so pleased to help them raise awareness about the importance of water safety and learning to swim. We want every child to love swimming, respect the water and most importantly, swim safely. You can't always be with your child, so teaching them how to help themselves in water if the situation arises could save their life one day.  #LoveWaterSafely