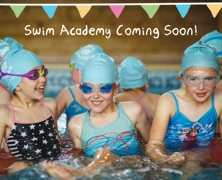 We are so pleased to be launching Swim Academy classes in Doncaster from September 2017.
These classes are suitable for children aged 4 to 10 years old, and are the natural progression from our Baby & Pre-school classes.
At Swim Academy, we teach a natural and smooth swimming style, starting with simple skills that we build gradually along with your child's physical ability and confidence. These are balanced with fun activities that develop various skills, such as life-saving, floating and surface-diving.
Children are grouped by skill, not age and whether your child has been swimming in our Baby & Pre-school classes, or has only ever experienced the water with the family, we'll have a class that's just right for their ability. 
Our first classes will start in September at Aegir School on Saturdays from 4pm and at Loversall Hall on Wednesdays & Thursdays from 4.30pm. 
Look out for more information! We can't wait x