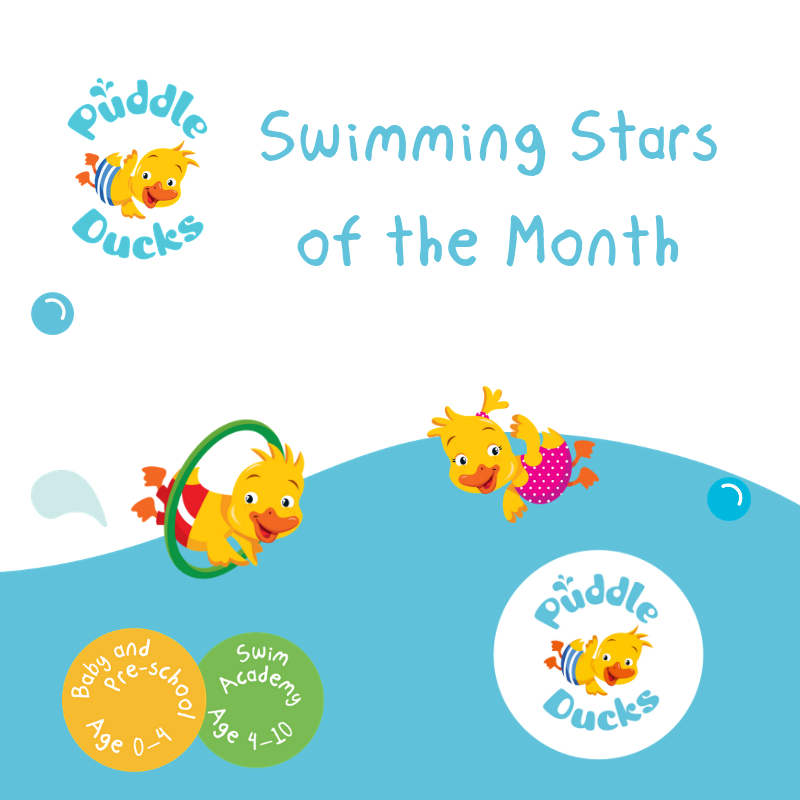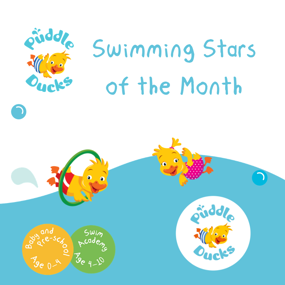 Did you know that this year Puddle Ducks Doncaster and South Humberside will turn 5 years old. We have been delivering our wonderful baby and pre-school classes for five years, teaching hundreds of babies and children how to love the water and learn a life skill. 
Since we first started announcing our Swimmer of the Week, we have more pools, more teachers and more children to choose from, with over 600 children swimming with us every single week!
Therefore, rather than just 2 swimmers of the week, we are asking all of our Baby & Preschool and Swim Academy teachers to nominate one person from the classes that they teach, to be their Swimming Star of the Month. 
We'll announce our Swimming Stars of the Month on the website at the end of every month and every swimming star will receive a certificate. 
So here goes...here are January's swimming stars! 
Congratulations to: 
Oliver, nominated by teacher Madi, who swims in our Baby & Pre-school classes at Epworth Swimming Pool!
"Oliver has been to nearly every Dippers class in Epworth that I have taught, and his journey over the last 7 months has been out of this world! Even though he has completed all the Dippers criteria, he still comes every week with a smile on his face, he never complains and he does fantastic demonstrations! The rest of the class look up to him and he takes that role graciously. Oliver's swimming journey has only just begun and he has the ability to achieve so much in the future! Keep swimming and smiling! Everyone is so proud of you, including me, Madi x"
Evelyn, nominated by teacher Jamara, who has Swim Academy lessons at Treetops Cottages. 
"Evelyn started off Swim Academy very nervous and needing lots of support and encouragement. Over the past few weeks she has developed water confidence and is now swimming independently on woggles, floating perfectly and she even jumped independently. She is enjoying all aspects of her swimming lesson and it's been so lovely to watch her grow! Super proud teacher moment. We'll done."
Charlie, nominated by teacher Sarah, who swims in our Baby & Pre-School classes at DW Fitness Selby.
"Charlie, a Splasher, is my swimming star of the month as he is consistently confident and happy in the pool. Every week he shows so much enthusiasm, he is so excited to get in the water. Charlie is happily doing face dips and this leads to some beautiful surface swims with lovely kicking legs. His independent jumps are brilliant, he particularly loves jelly on a plate. Keep it up you are going to make a fantastic little swimmer."
William, nominated by teacher Gill, who swims in our Baby & Pre-School classes at Signhills Academy.
"The new year has turned into smiles and fun for William. He's now showing me he's enjoying the class splashing and gaining in water confidence. Small achievements lead to big steps, well done William, you are my Swimming Star of the Month." 
Eva, nominated by teacher Lauren, who swims in our Baby & Pre-School classes at Willow Lodge, Bubwith
"Eva has come on in leaps and bounds. It's took a few months to work on her confidence, so that her confidence matches her swimming ability. It was such a big achievement for her to get her 5M, as it showed her she really is capable of doing lovely head down swims. Everybody but Eva knows what a little star she is!"
Kian and Oscar, nominated by teacher Clair, who swim in our Baby & Pre-School classes at DW Fitness Selby.
"Both Kian and Oscar have, each in their own way, made huge progress this last month. Kian is always bright and cheerful and has a great go at everything. His confidence has grown and he is now happy to jump and swim independently. He mastered rhythmic breathing so easily! I love watching you enjoying swimming Kian - well done. Oscar has made amazing progress in his swimming class and will now have a go at most exercises. We now have bubbles, jumping and fabulous head down swims during five puddle ducks! Your little smile when you know you can do it makes me so happy! Congratulations both of you!"
Harry, nominated by teacher Nikki, who swims in our Baby & Pre-School classes at John Whitgift Academy.
"I have nominated Harry from my Little Dippers class because he has come on so much since the beginning of January. Harry had a while off due to having a grommet fitted. Since coming back and now being able to communicate, he is happier than ever being in the pool. He is putting his full face in the pool, independently swimming on short woggles, reaching down for the sinking ring. I am super proud of Harry for the way he has tackled his swimming lesson. Well done little man. Nikki. "
Jaxon, nominated by teacher Rebecca, who swims in our Baby & Pre-School classes at Oak House, Tickhill.
"Jaxon is an amazing little swimmer, he comes to his lessons every single week and always has a smile on his face! He has been swimming with Puddle Ducks since he was in Floaties and has always been confident, which shows in his improvement every week. Jaxon has just moved to Little Dippers and is doing great, turning and pushing off the wall and having a little swim to mum. He amazes me and I love seeing him learn more each week."
Well done to all of our Swimming Stars! Your teacher will give you a certificate in class x